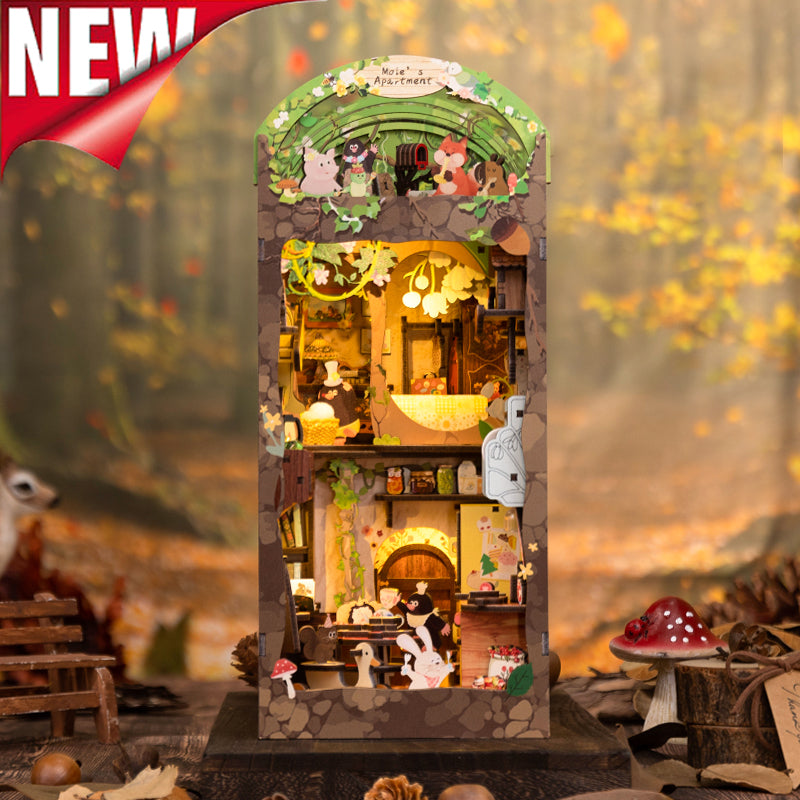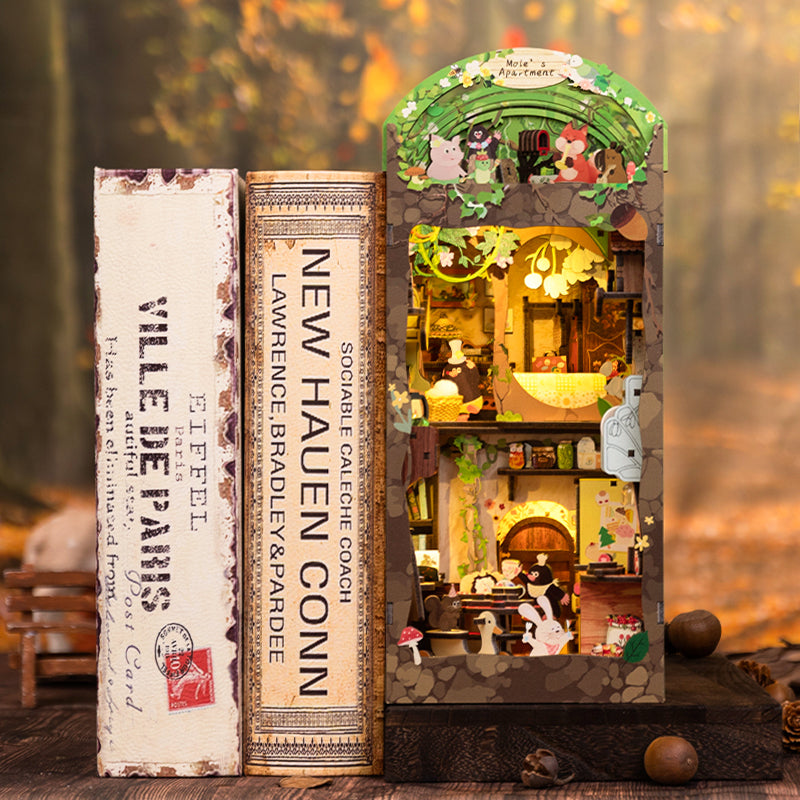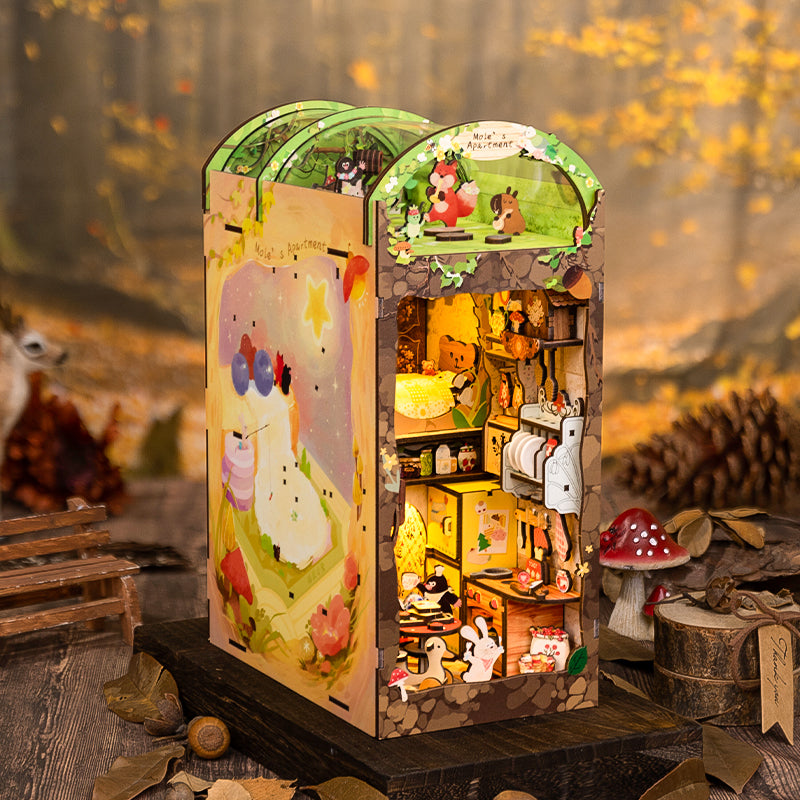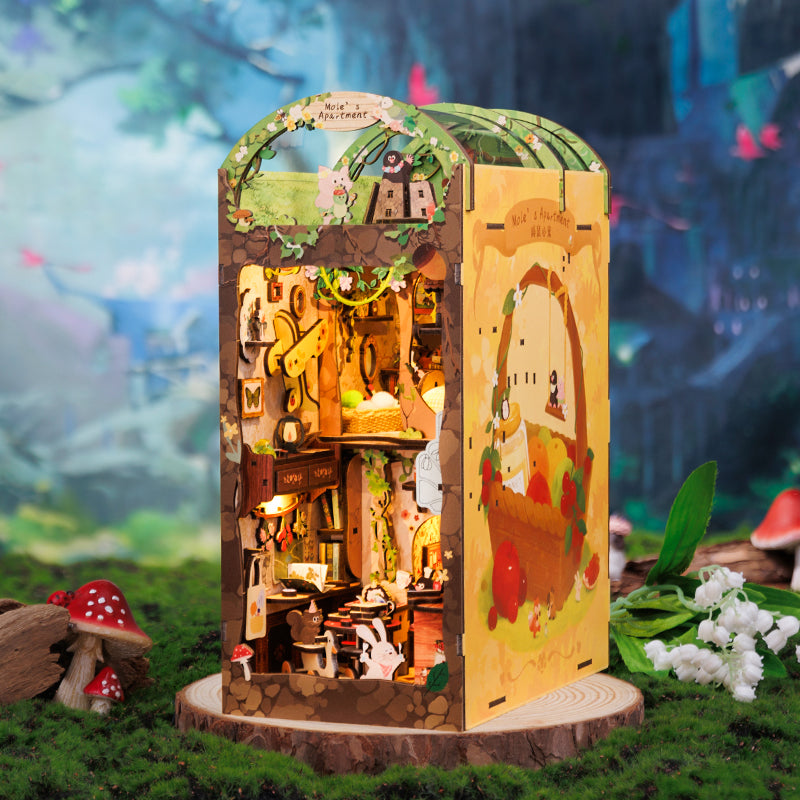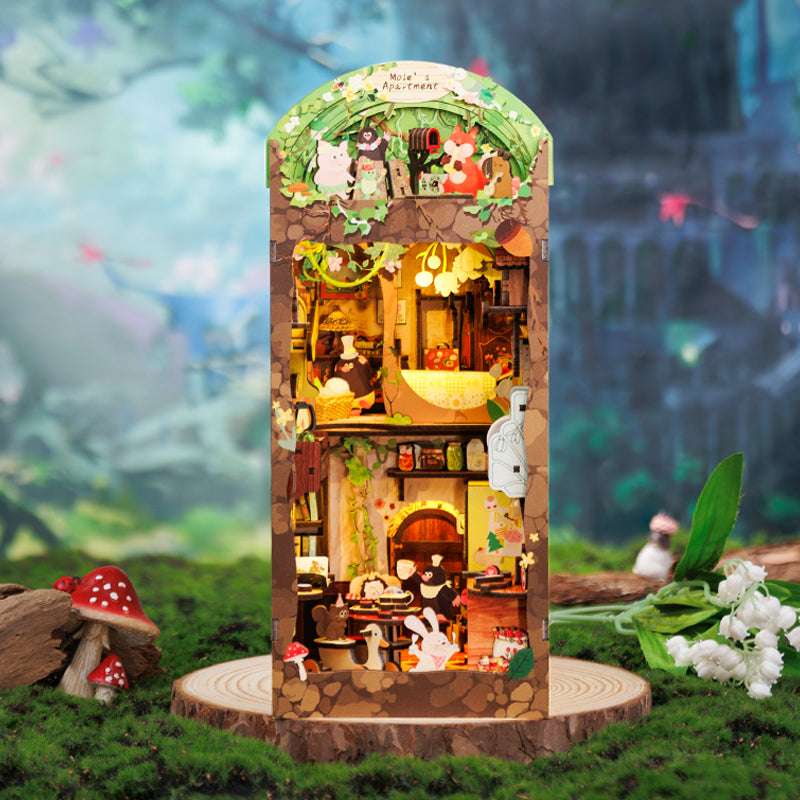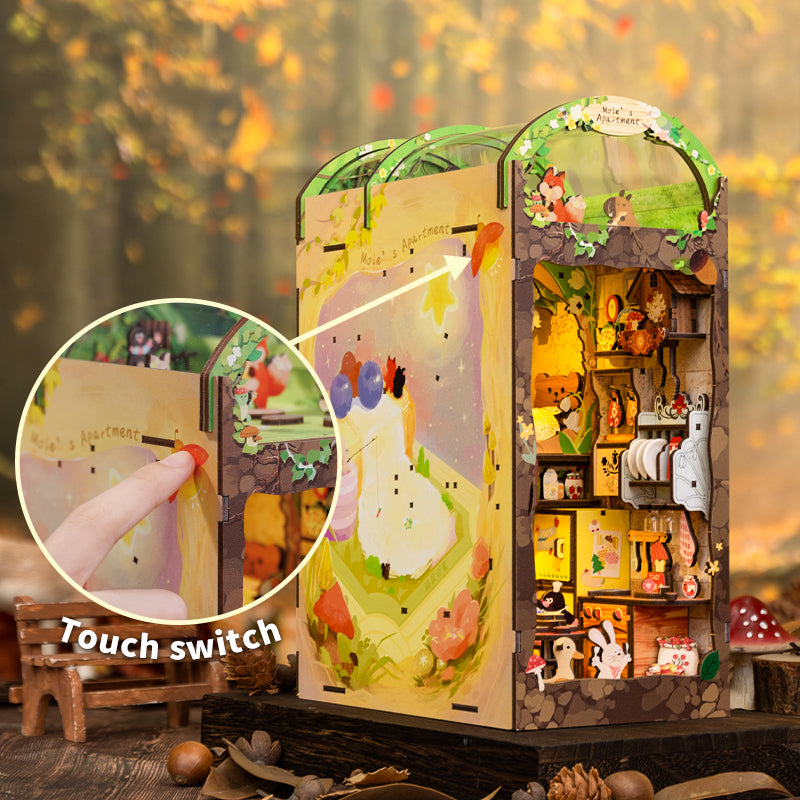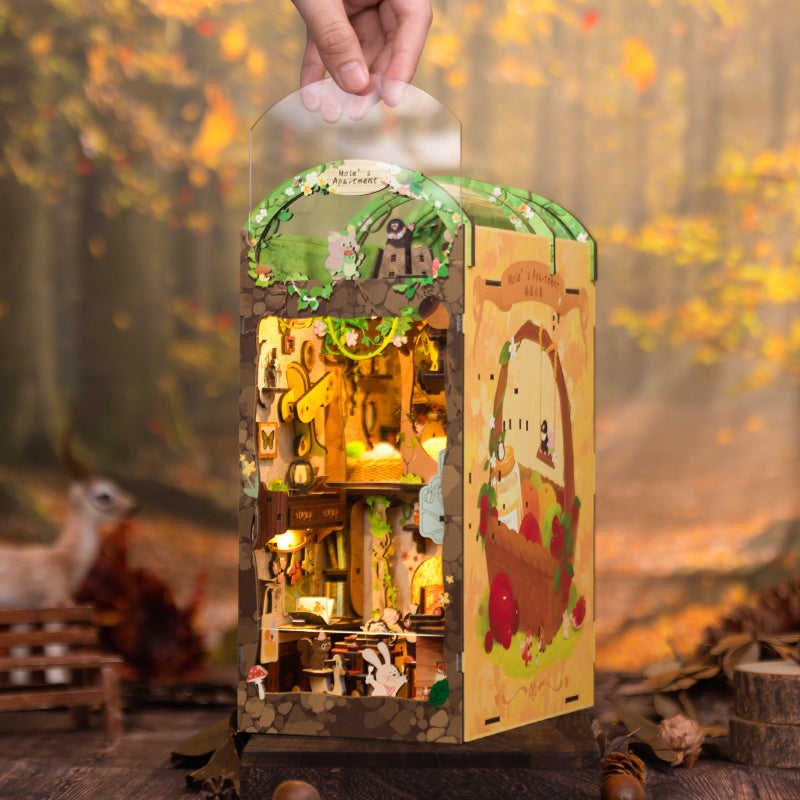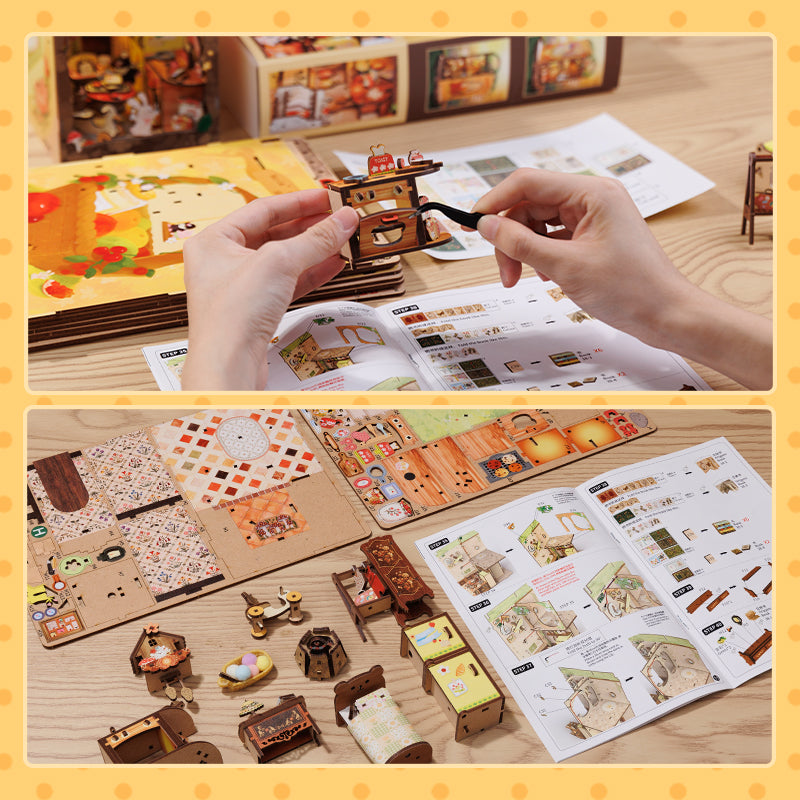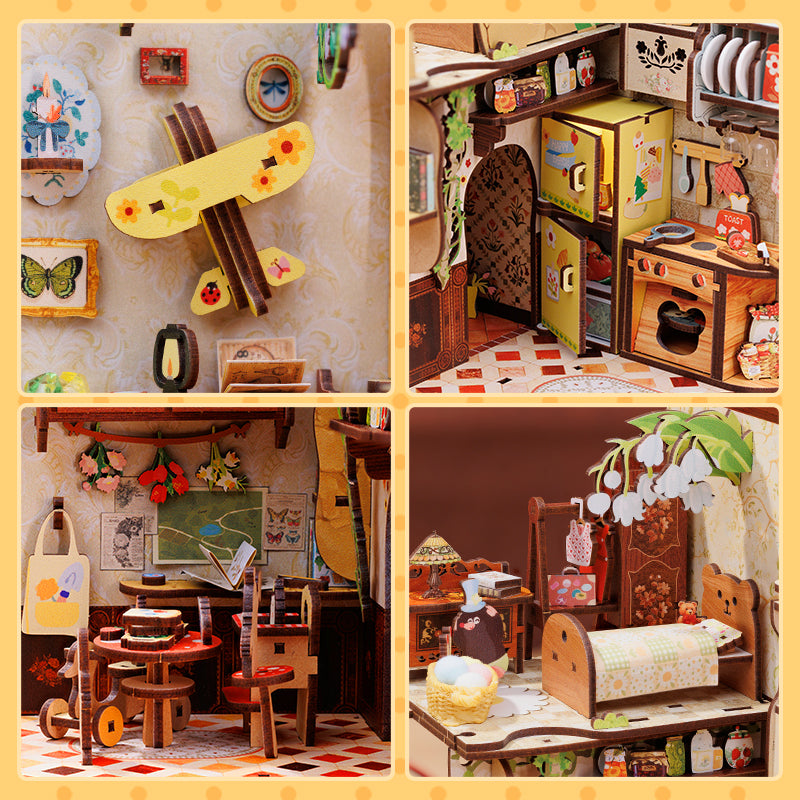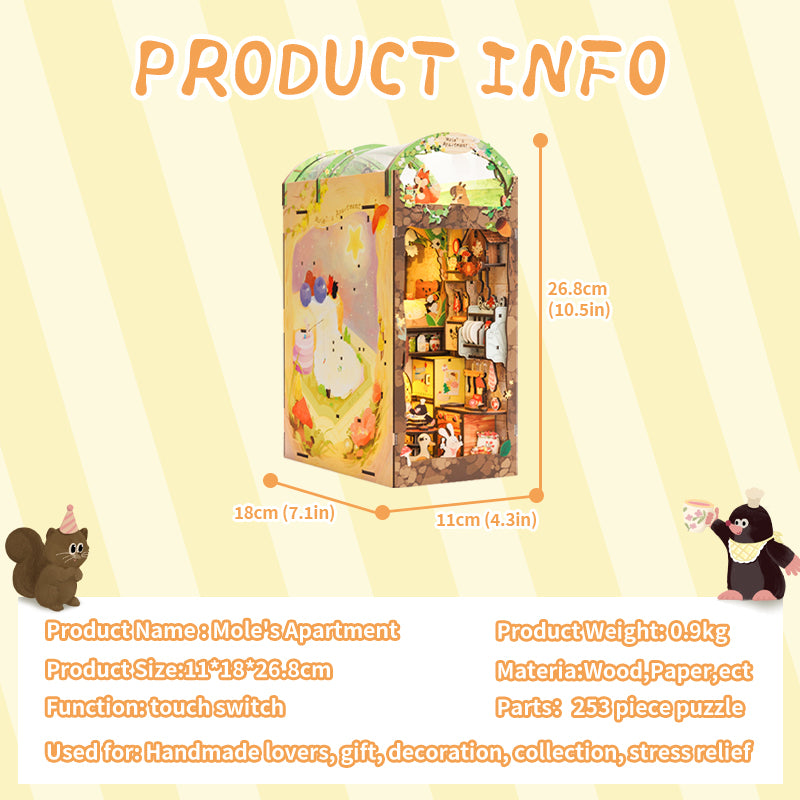 CUTEBEE DIY Book Nook Kit (Mole's Apartment)
New upgrade, the product comes with a dust cover and does not need to be purchased separately.
---
Free delivery for orders over $75 worldwide
Is it safe for children to use?

Notes: Children must assemble under the guidance of adults in case of swallowing.
Which battery type to use
We recommend using white latex or alcohol glue.
Hello, I bought this and the lights do not work. Any ideas?

1. Check to ensure the AAA batteries are charged and you have placed the batteries at right directions.Then make sure the battery switch is at the 'ON' position.
2. Check to see the LED light and the wires are complete and not broken.
3. Check the touch mother board is complete and not broken:see the electric component parts embedded on are full and welded firmly. Make sure that the wires are connected accurately.Red wires are connected to Positive electrode,black wires are connected to Negative electrode.
4. Check the same color wires are connected firmly
How long does it stay on with the touchlight ? Will it turn off itself?

The light in the book nook kit will be on if you press the switch. It will turn off if you press it again. Unless the batteries run out,it will not turn off itself.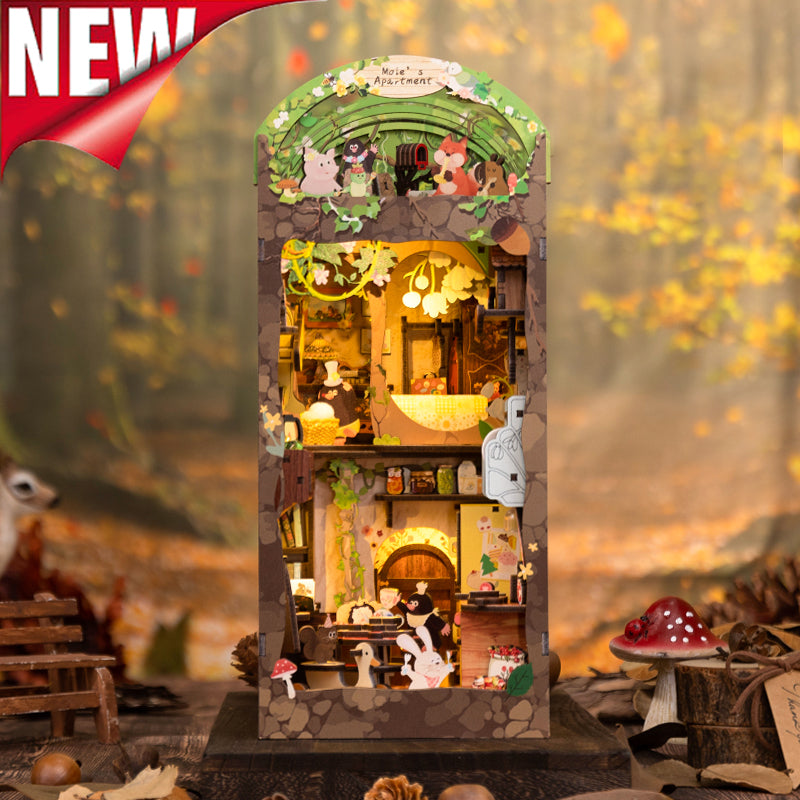 Mole's Apartment
Step into this tiny world and you'll be swept away by the joy of the Mole House. Each floor reflects unique creativity, and every corner is adorned with vibrant décor. Here, moles and other small animals live together, play together, and enjoy delicious meals together. Every tiny detail of this tiny world tells a joyful story and creates a happy atmosphere in the home.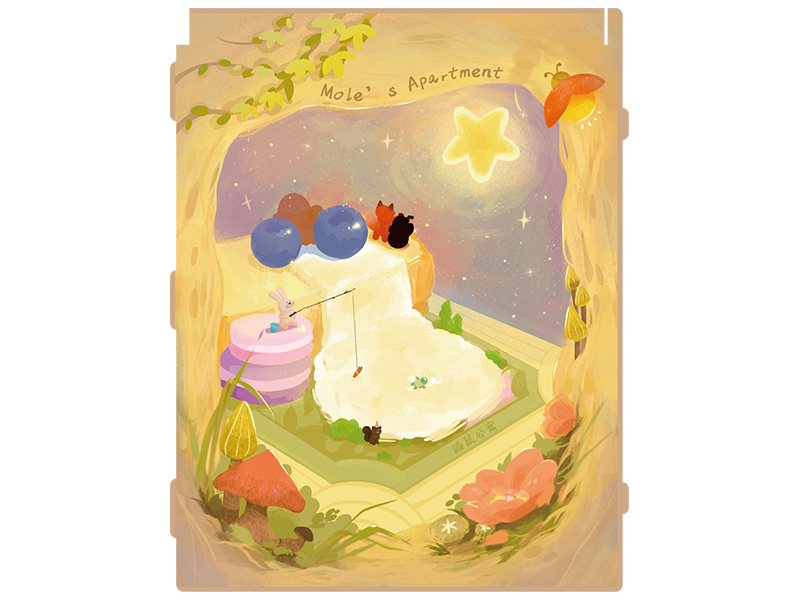 Left
Little Critter's Fantastic Tree Hole Journey
Mole and Fox climb up Toast Mountain, where soft toast is in front of them and they share food dreams and stories.
Hare, Squirrel and Turtle travel to Cream Falls, where the lake is sweet, creamy water, and they enjoy it as if they were in heaven.
The animals have a great time exploring this delicious world together. This food adventure will stay in their hearts forever.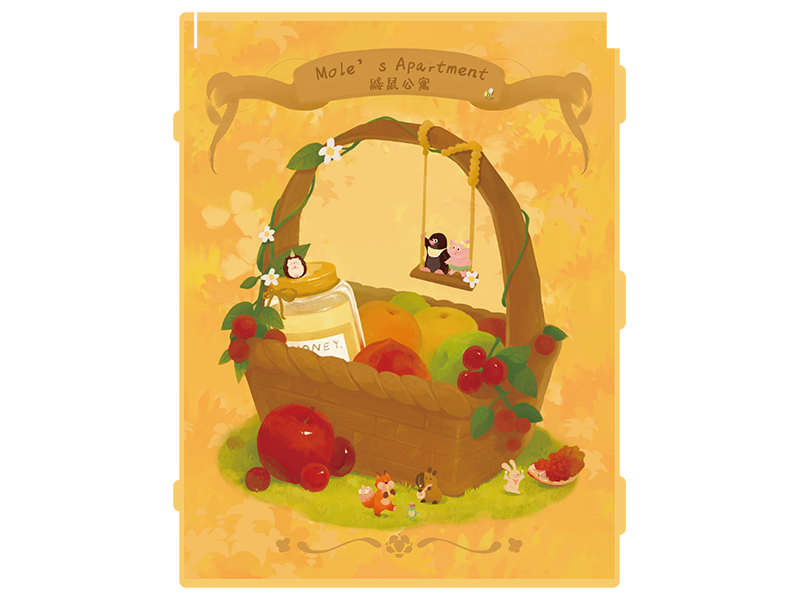 Right
Gathering Feast: A Good Time for Critters
On a sunny day, little animals met to collect fresh berries and honey. They filled their baskets and gathered on the lawn. Some played music, while others danced and enjoyed the fruits of their labor. The lawn became a haven for their joyful reunion. It was a wonderful day.
Front and back
Enchanting Ambiance
The backdrop, featuring branches, grass, butterflies, bees, and books, exudes a relaxed ambiance, seamlessly merging the beauty of nature with the joy of reading.
The door frame, embellished with mushrooms, flowers, plant roots, and pine cones, immerses you in the cozy ambiance of a mole's underground dwelling, where the secrets of nature unfold.
DANCING PARTY
Mole holds a gorgeous dancing party for cuties, cuties aredancing on the forest happily, all of the forest is under theatmosphere ofhappiness.
COZY BEDROOM
Downward along with the vine to enter the unique world in Mole's Apartment, in such lovely bedroom, a mole is wearing his top hat and dressing himself for the dancing party.
Delicious Food Party
Downward along with the vine again is the food world where cuties are preparing a delicious journey to enjoy and share the foods and happy time.
CURIOUS ADVENTURE
There is a little wooden door on the end of the corridor of the first floor,and there is a pair of galoshes on the doorway ,whose home will the door leads to ? lt will leads you to more cozy residences of cuties and to reveal more splendid stories.
Advantages of our products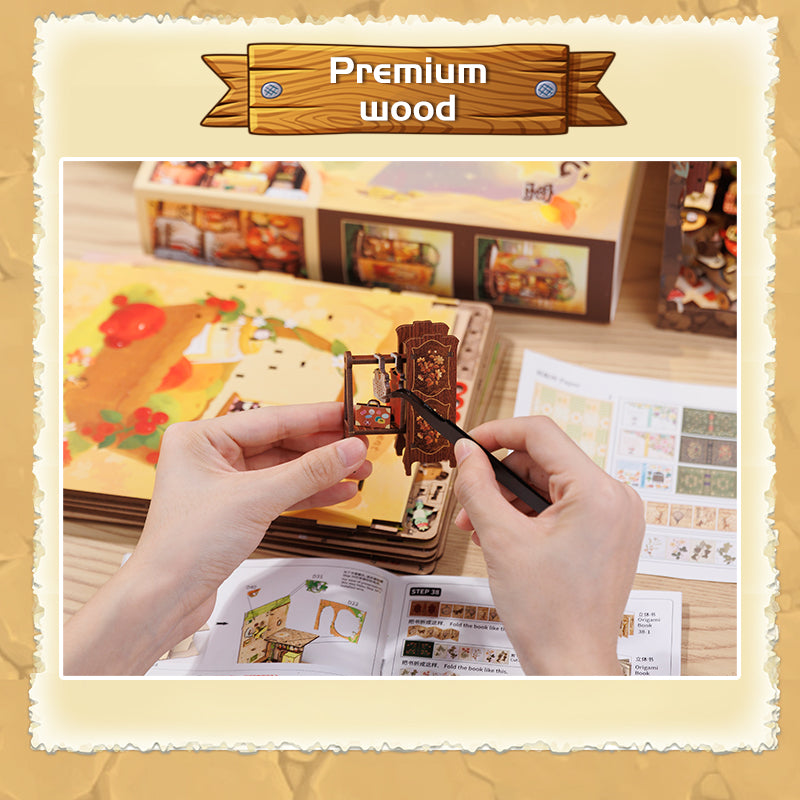 Unique Design:
Socket wiring: concealed wiring, does not affect the beauty
Falcon mou snap: snap assembly, less glue use, better protection of the environment
Color manual: 3D three-dimensional tips instructions, so that the assembly is easier

New upgraded design: dust cover
The new dust sheet using slot insert design, installation only need to align the dust sheet to the slot, slowly insert the dust sheet to the bottom of the book stand can be fast and convenient will not damage the parts.
New LED light touch switch
Boring booksheleves make you dult. Let new elements surprise the eyes with beauty.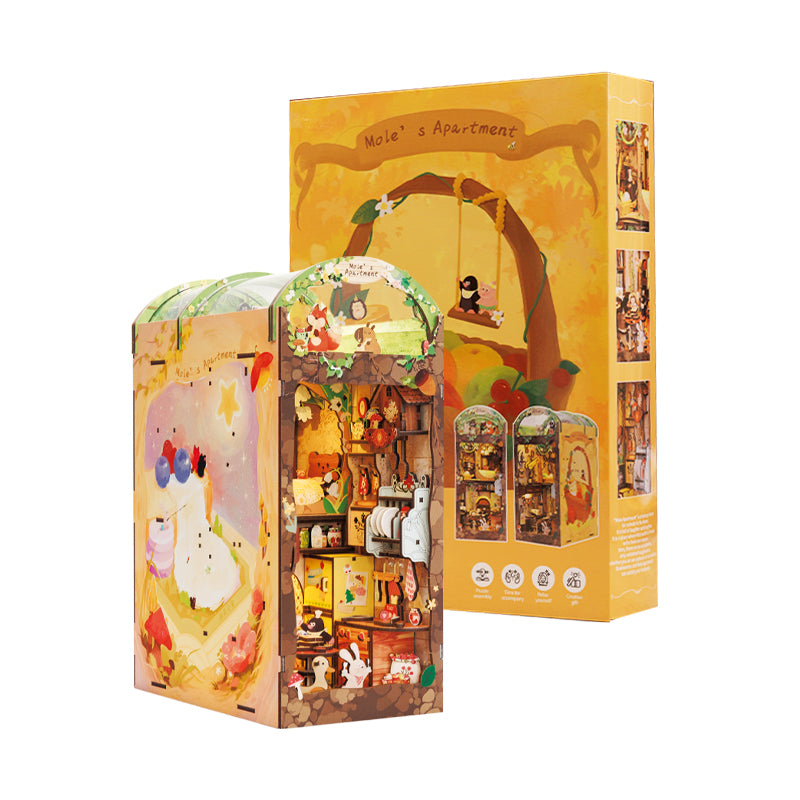 Packet Include
Battery box and wires
Instruction manual
Paper accessories
253 components
Notes
The product requires 2 pieces of AAA batteries.
Due to customs policy, glue and battery may not be included in the package.
Perfect Gift Choice
In this ever-changing world, put your heart and soul into meticulously assembling a gift of eternal love and trust for your family, friends, and yourself.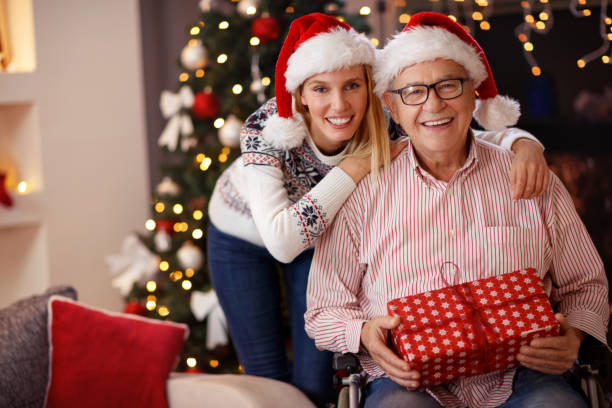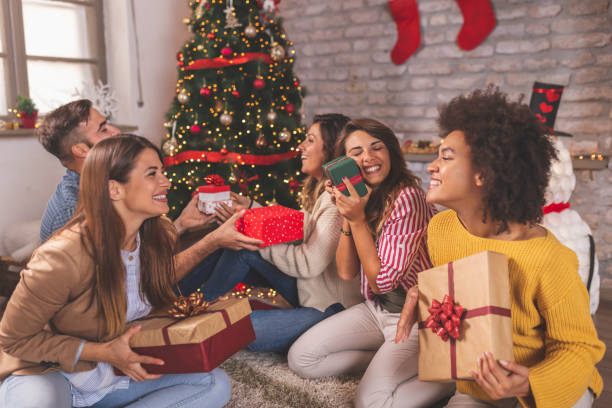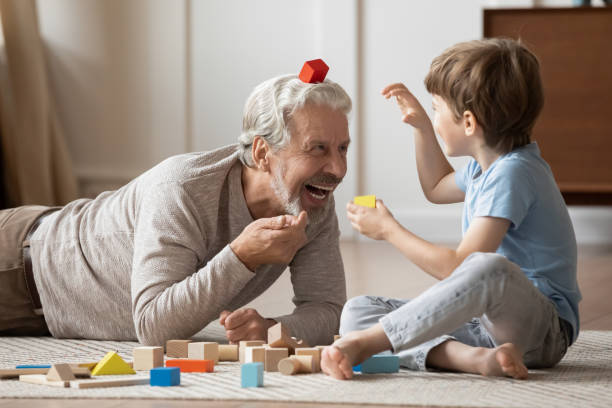 Why should kids have this?
Cutebee booknook kit can help develop child's vocabulary and increase his/her understanding about labeling, sentence structure, spatial visualization, balance, symmetry, and even weight, height and gravity!
Notes: Children must assemble under the guidance of adults in case of swallowing.
Why should young people have this?
Everyone experiences stress from time to time. We can become stressed by various things — work, relationships, school, finances, illness, natural disasters, or dealing with the death of a loved one — all of which can make you feel frazzled and overwhelmed. 
Now, immerse yourself in the magical world, temporarily forget all your troubles, and calm down to enjoy the process of creating a magical world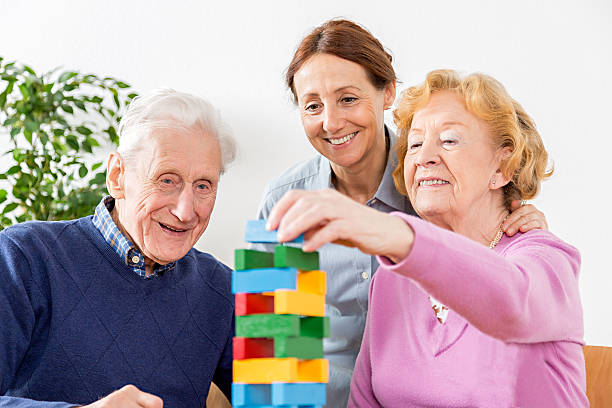 Why should elderly people have this?
Hours of quality time can be spent with your loved one helping them to build things with Cutebee. This can also bring back memories of their childhood. Memories of childhood times and toys can bring a smile to anyone's face.Cuteebee booknook kits can help those with Alzheimer's, Dementia or other cognitive deficiencies. Identifying various colors, shapes and sizes can be very constructive.Cuteebee booknook kits can help with strengthening motor skills. Larger blocks may be more useful for seniors with arthritic hands.
Frequently Asked FAQ
Use this text to share information about your product or shipping policies.
Do you offer free shipping?

Yes, we offer free worldwide shipping for ordersover 75 USD.
Where can I get & how to use coupons?

Where can I get coupons: We will hold some events on our website, and the corresponding coupon codes will be displayed on the Banner on the home page, or below the product price by clicking 'Get'. You can also subscribe to our emails or follow our social media accounts, and we will send you coupons from time to time.

How to use coupons: Fill in the coupon code on the checkout page and click 'Apply'. Please note that some of the sales cannot be used at the same time with certain coupon codes.
When can I receive my orders?

The Processing Time will be 1 - 3 business days after we receive your orders. The estimated arrival time of your orders is Processing Time + Shipping Time.

Standard Shipping (available worldwide):
Shipping Time: 5 - 15 Business Days

Express Shipping (Products designated by the United States, YS05, YS06, SZ05, BK01, BK02):
Shipping Time: 2 - 5 Business Days

(Free shipping over $75)

To learn more about our shipping policy, please click here.
What if I want to return my order?

No problem! We offer a 30-days risk-free return policy on our website. Please notice that returns must be in original packaging and condition with receipt. If the returned item is not in the acceptable condition it will be refused acceptance.

If you receive a damaged product, do not throw away the packaging. Please contact us immediately at cutebee0708@hotmail.com. We will deal with it without a doubt.
What if some parts are broken or lost?

We offer part replacement service. Please click here to learn more about how to apply for it.
Worried about missing parts

We would double check the parcel before sending the pracel to you.And if you find anything missing,please contact us and we can send you the replacement for free.
Our customer support is available Monday to Friday: 8am-8:30pm.
Average answer time: 24h
This product has no reviews yet.